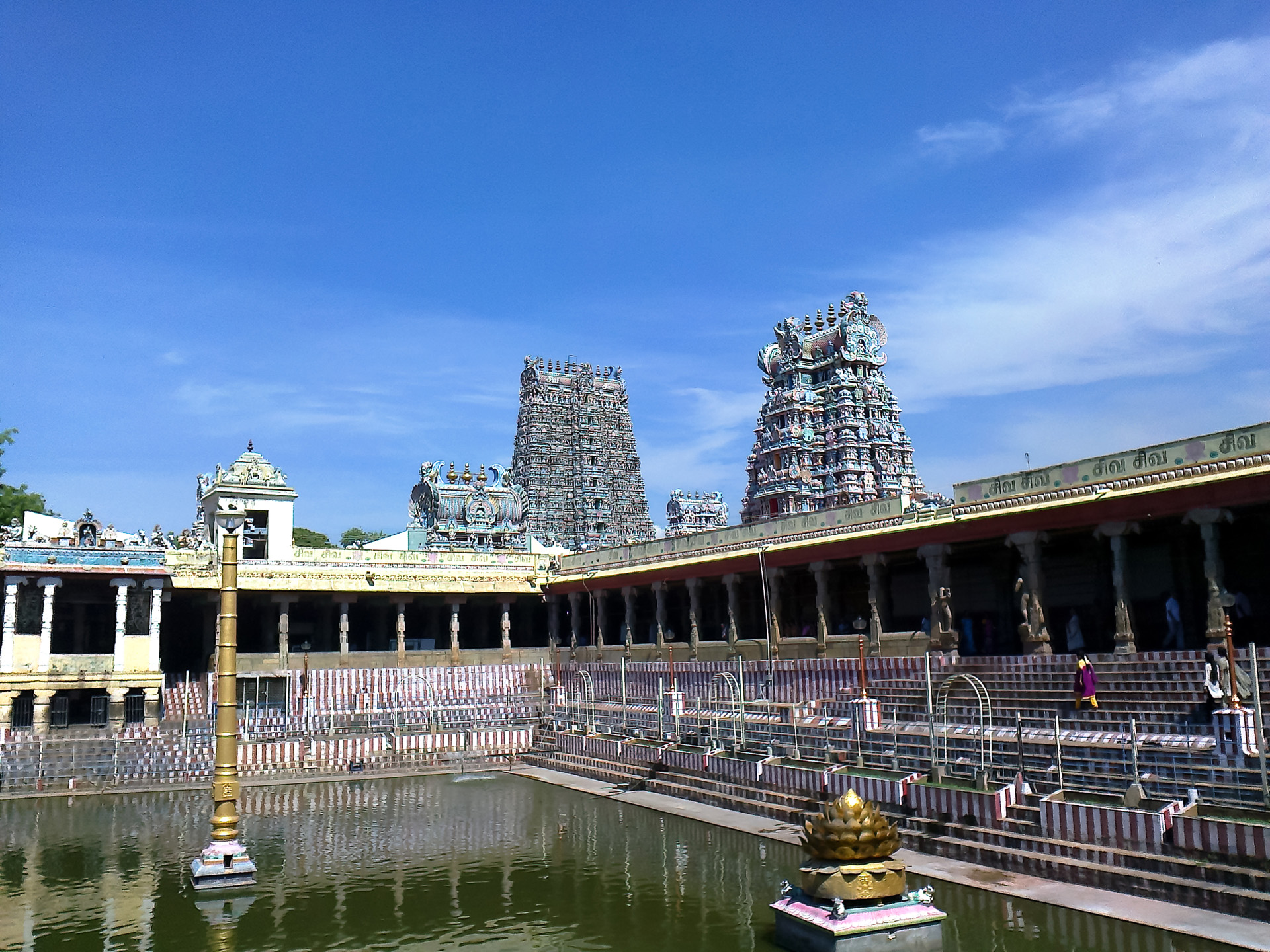 Destinations
I made my plans with Mr Chandra Bose, the realstay owner, regarding the places to see in Madurai the previous day. He asked me to go the Madurai Meenakshi Amman Temple, Thirumalai Nayak Palace, and the Gandhi Memorial Museum. Also, asked me to go to the Meenakshi Temple as early as possible. Taking the cue from Mr Chandra Bose, I woke up at 5 am and Mr Chandra Bose dropped me off at Oomachikulam bus stop in his scooter.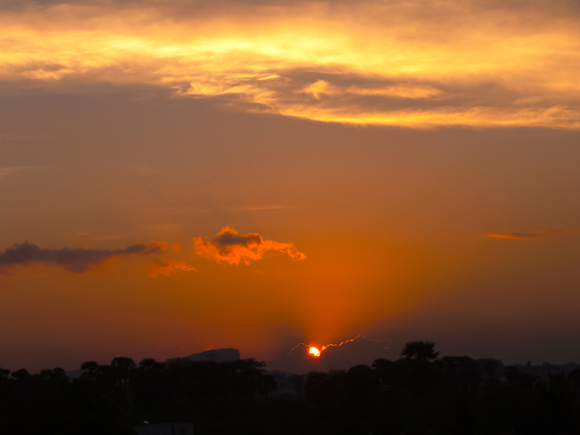 I took the wrong bus but got off midway and got another bus to reach Simhakal, where I was supposed to get off and walk about half a kilometre to reach the temple. The city was preparing for the day ahead, head-load workers unloading vegetables, fruits, flowers, and other essentials from trucks that transported them to Madurai from various nearby villages. Cycle rickshaws moving around in zig-zag fashion to transport the recent arrivals.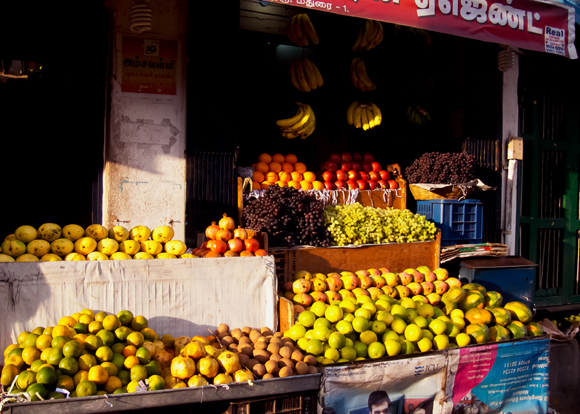 Tea shops busy with morning walkers, office goers, old men catching up on news and gossip, and elderly women traders with wrinkled foreheads, thinking of various issues as they sip their tea. I stopped at one such tea shop and had a tea and ulundu vada. There was a freshness to everything around and such is the magic of early mornings, and enjoyed my walk towards the temple. I could see the freshness radiating even from emaciated sadhus and mendicants on the way.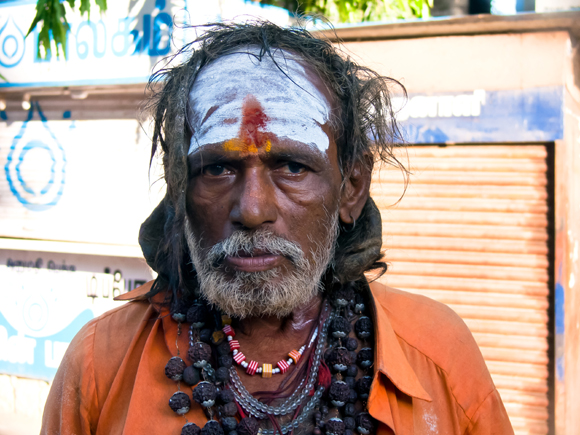 I reached the East Gate/Gopuram and found that cameras are not allowed inside the temple… was a bit disappointed and deposited my bag and camera where one leaves the footwear. The two streets surrounding the temple is out of bounds for traffic, which is a very good move by the authorities, and the temple was totally fortified with police personnel and metal detectors. All devotees are frisked.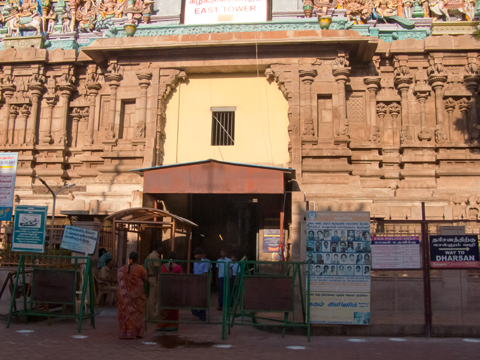 As you walk in you can see traders doing brisk business selling coconuts, flowers, incense sticks, camphor, bananas, packets of milk, curd, ghee… as offerings to the goddess, and beautiful sculptures peep out of corners of the shops. In a sense, I could transport myself to 1000 years back and envisage a similar scene with very little changes.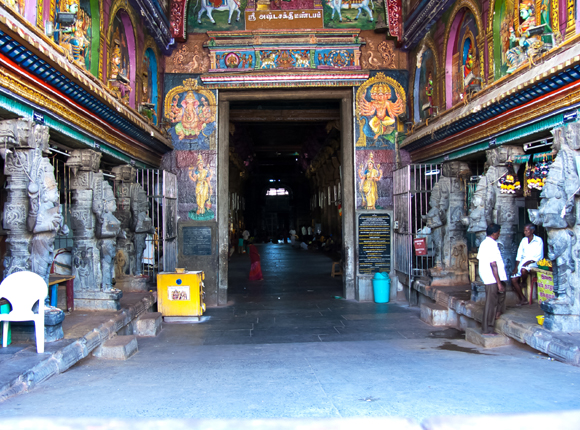 I could remember bits and pieces of my last visit about 20 years back with my college mates and teachers while we were on a study tour from Ooty. As I was entering the main block I saw on right the 1000-pillared hall and I heard so much about this hall from various sources, I could feel the strong pull towards this hall. Here one needs to pay a 5-rupee entrance fee and 50-rupees for using mobile phone camera. (I really don't understand the logic here – one can use a mobile phone camera but not a camera-camera).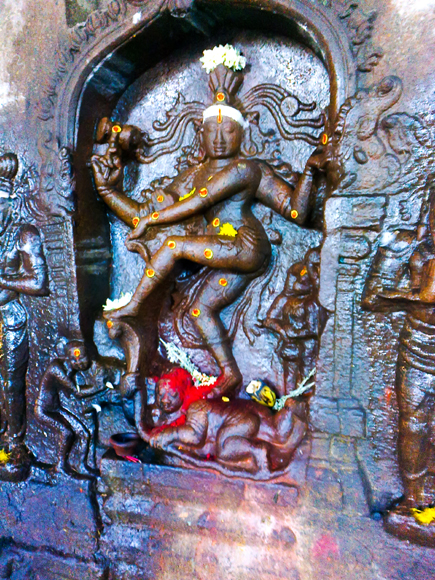 Once inside the Nayak-period 1000-pillared hall one can see a large bronze Nataraja with his consort at the end of the corridor lined by beautifully carved pillars – Carved pillars of heavily breasted yakshis, courtesans, Goddesses, Gods, dancing girls, Ganesha, half animal and human figures, paintings of Nayak period, and bronze statues.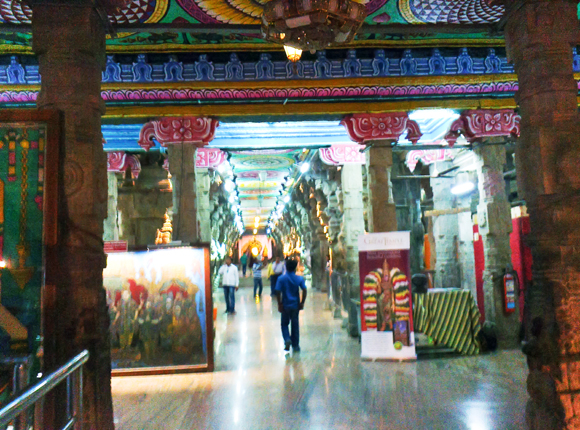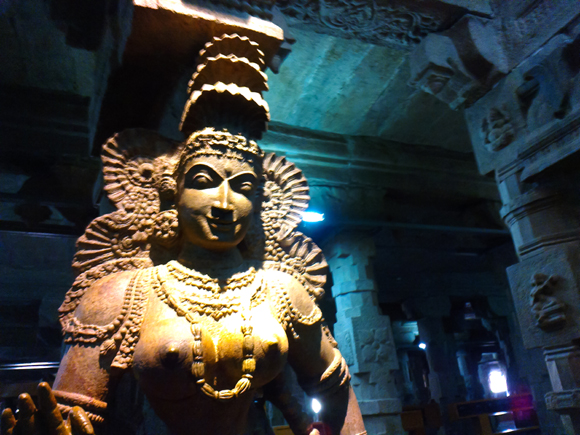 Presently, this hall is maintained by the State Archeology department and serves as a museum. It has some of the finest bronzes I have ever seen. Nataraja, Somaskanda, Vishnu, Devi, Parvathi, and many others from different periods are showcased here. This one of the best museum settings I have seen anywhere in India.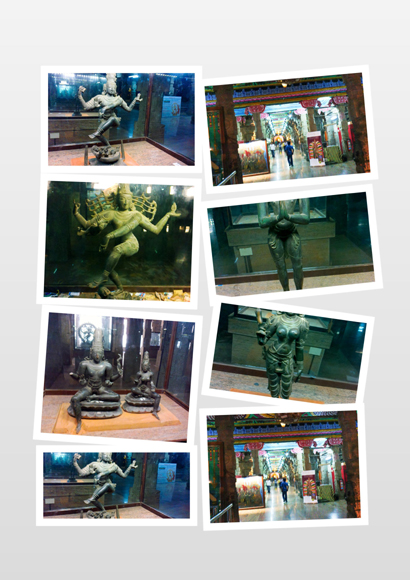 It perfectly merges with the temple culture and gives an ethereal feel all over. I quite reluctantly left the 1000-pillared hall/museum.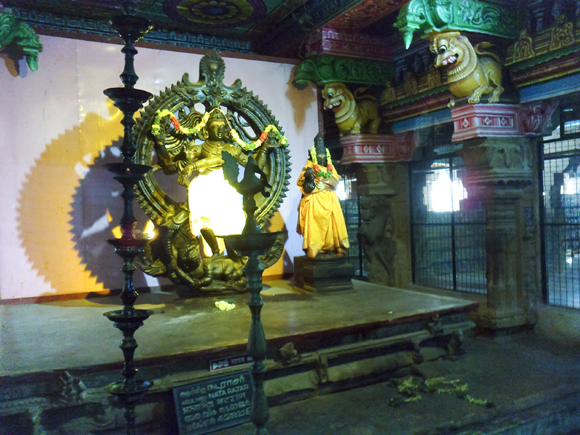 I walked towards the sanctum santorum and now the crowds have started coming in. There were a quite a number of locals and tourists around. I noticed a young girl whispering into the ears of the Nandi statue at the entrance, (Meenakshi Amman is the principal deity, but her consort Shiva as Sundareswarar is also worshiped, so the Nandi (bull) statue). I asked the young girl what she told him… she replied that it is a secret with an impish smile. I smiled back and proceeded to into womb-like labyrinth.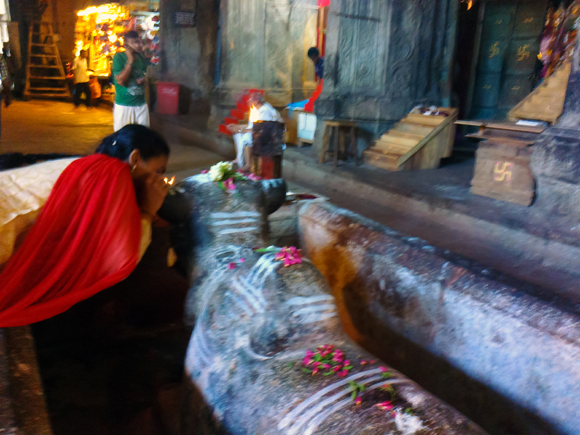 The eight forms of Amman and fantastic ceiling paintings adorn the walls and ceiling. It was like walking into a celestial palace. The setting was so medieval and ancient that makes one wonder at the splendor and beauty of this creation. I had a beautiful darshan of the Goddess Meenakshi in spite of my myopic eyes. I was given a packet of Kumkum and moved on dazed.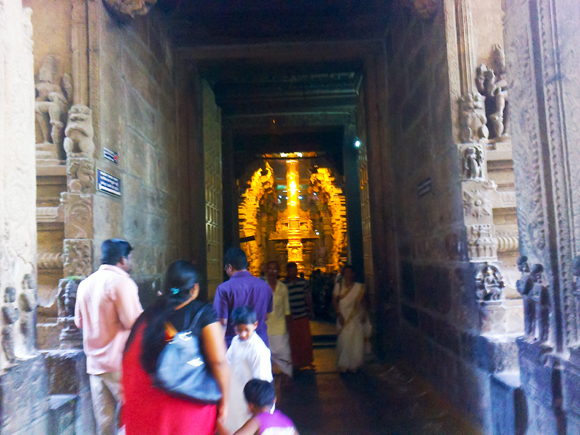 I then wandered on to the temple tank and went around the other parts of the temple.
My entire experience was so beautiful that be equated to the second century AD, Nakkeeran's poem:
"[For Madurai was] a city gay with flags, waving over homes and shops selling food and drink; the streets are broad rivers of people, folk of every race, buying and selling in the bazaars, or singing to the music of wandering bands and musicians… [Around the temple], amid the perfume of ghee and incense, [are stalls] selling sweet cakes, garlands of flowers, scented powder and betel paan… [while nearby are] men making bangles of conch shells, goldsmiths, cloth dealers, tailors making up clothes, coppersmiths, flower sellers, vendors of sandalwood, painters and weavers."
Hardly anything has changed.
Historic background of Madurai's Meenakshi Amman Temple:
Madurai is one of the most holy ancient towns in India and an important centre of Hindu civilisation. Madurai was a major terminus of the Spice Route. Megasthenes, the Greek ambassador who visited India in 302 B.C, recorded Madurai's legendary riches. At the peak of the trade, during the reign of Nero, a Pandyan Embassy from Madurai was received in Rome. With the discovery of a Roman port near Pondicherry, the claims are much validated. Meenakshi Amman Temple (also called Meenakshi Sundareswarar Temple and Meenakshi Amman Kovil) is a historic Hindu temple on the banks of Vaigai River. The temple the heart of the Madurai city for more than 2500 years and the present structure was built between 1623 and 1655 A.D. It has 14 gopurams (gateway towers), ranging from 45–50m in height.
The Legend of Meenakshi Amman:
Emperor Malayadwaja Pandyan, the successor to Madurai's founder Kulasekhara Pandyan, and his consort Kanchanmala were unable to conceive any children. In attempts to have a child the Emperor conducted my rituals. After many such rituals, a 3-year-old girl with three breasts emerged from the ritual fire, who was the incarnation of Goddess Parvathi, and was named Tatatakai. The Emperor was a bit sad that he was not blessed with a son. But he brought her up like a son teaching her all about warfare and governance. It was also said that the third breast will disappear once she meets her husband that is Lord Shiva. After Emperor Malayadwaja's death, Tatātakai ascended to the throne. She was loved by the people of Madurai and was fondly called "Meenakshi" – the one with fish-like eyes. Meenakshi went on a military campaign across the length and breadth of India. After conquering the entirety, Meenakshi attacked Mount Kailash, the abode of Lord Shiva. She defeated all the soldiers and generals of Lord Shiva. Seeing this, the Lord himself came to fight, but as soon as Meenakshi saw Shiva, the prophecy came true, she had found her man, and her third breast disappeared. They were married in Madurai with Lord Vishnu himself giving away Meenakshi to Shiva. Meenakshi Kalyanam, during the month of Chithirai, the marriage of Meenakshi with Shiva, is celebrated annually. And they ruled Madurai and considered ruling to date.