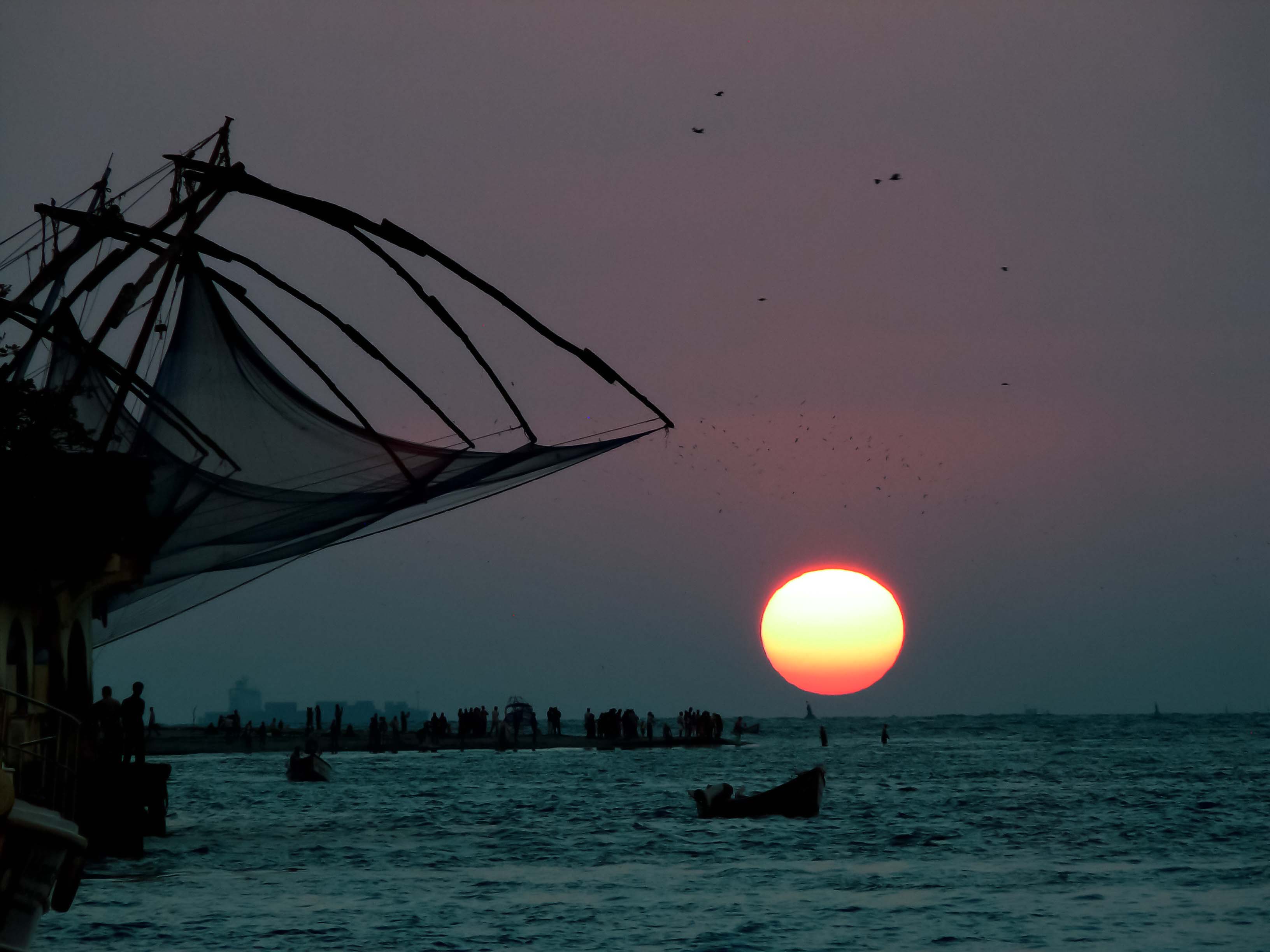 Encounters
It was quite late when I left the Biennale venue after getting a few sunset pictures. The sunset was truly spectacular. I reached my room and freshened up and went to a nearby restaurant right opposite the Aspinwall House, the main venue of the Biennale. I sat opposite to the restaurant owner who was having his dinner. He mentioned that the Biennale has boosted his business and was quite happy about that. In fact he wondered why the Biennale Foundation was having a cash crunch and finding it difficult to conduct in spite of sponsorships and ticket sales. It was just a casual talk. I ordered some Chinese veg food and the restaurant owner had finished his dinner by then. As I got my food, a foreign looking person with a 'moustache' sat next to me and was wondering what to order. He asked me what I was having. I told him Chilli Gobi and Veg Fried Rice, and he ordered the same. We struck up a conversation. Stanley from Wimbledon, London. He is 66 years old, and travelling in India alone. He had been to Ooty but found it a bit damp and cold. He had travelled the Nilgiri Mountain Railway while at Ooty. He mentioned how there was a similar train in Germany using the rack and pinion system but costs a fortune.  He said he was able to get a window seat on the Ooty train and was able to soak in the wonderful scenic beauty of the Ghats.
Stanley had met an English couple going about in an A/c car and staying away from the heat and dust. He wondered what was India without the heat and dust. He said he could afford to travel in A/c cars and live in star hotels, eating the same continental food that he was sure the other couple did. But he wanted to experience the real India, interacting with the locals, travel the way the locals travel and eat the local food, the scenes and sites were just incidental. He is planning to go over to Delhi where his friend's father had created some mural work in a church near the Rashtrapathi Bhavan.
I told him I was there in Kochi to cover the Biennale event for Realindia.in and also explained the concept to him. I could but agree with his style of travelling in India. He warmed up to our  concept and spoke at length about travel for travel's sake. Yes, the Realindia blog and Realindia.in could be  lots of work, but fulfilling he said. It is quite encouraging when like minded people talk of your ideas. I felt good about our prospects with this initiative.
We paid the bill and I came to know he was staying in the same home stay where I was and walked down to the place. It was a very interesting conversation and Stanley concluded that this concept of Realindia is very viable and maybe this is exactly what people are looking for while traveling in India.