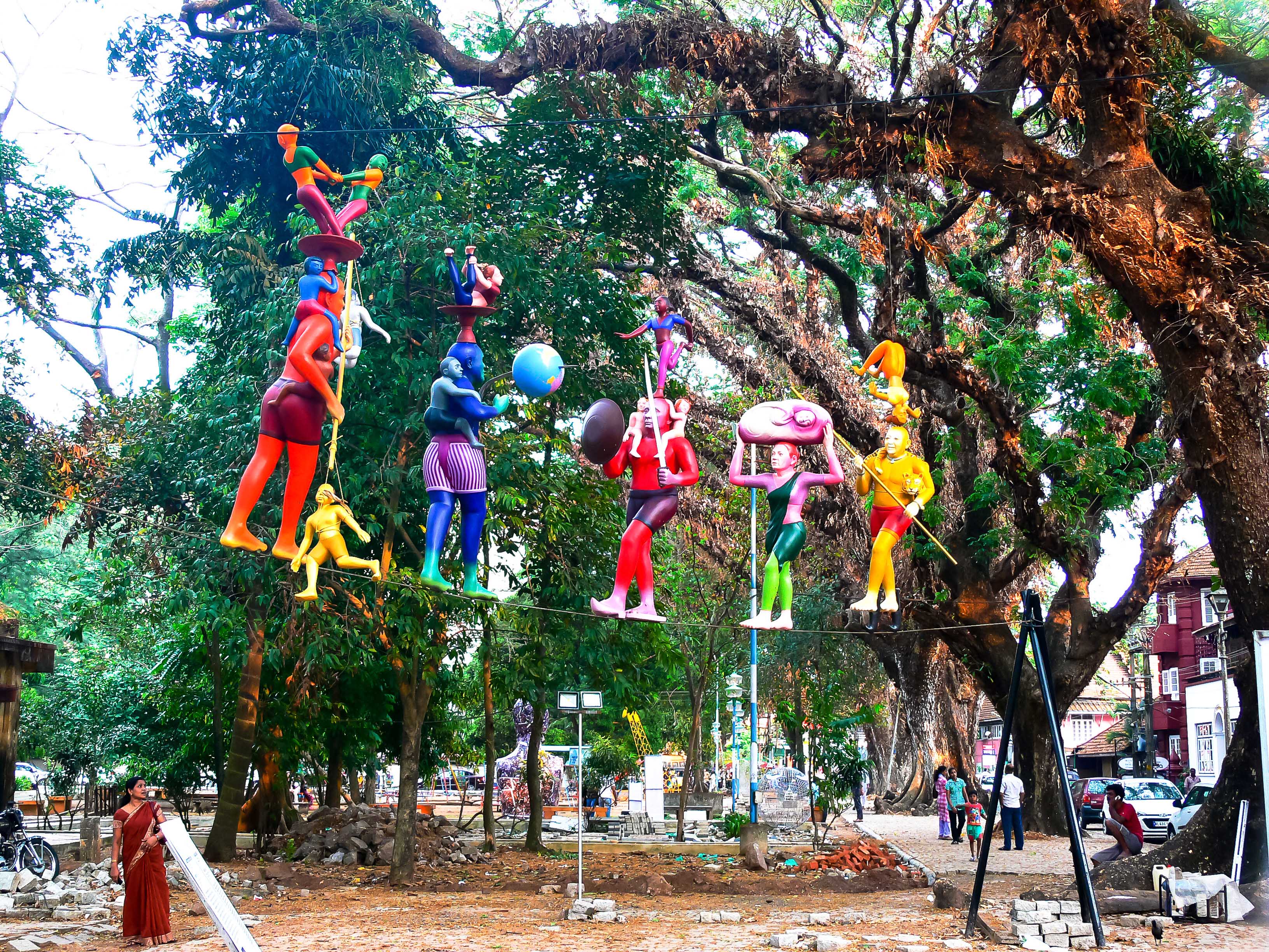 Events
I checked into a nice home stay called the Tree Home close to the Fort Kochi Jetty and to the main venue of the Biennale. I had come down to Kochi last December and stayed in the same place. It is clean with all the basic amenities and Wi-Fi. Being the end of season here, I got a good discount. I had to catch up on the emails and the blog, and could do with relative ease.
After lunch I walked down to the Aspinwall House, the main venue. I got the tickets (Rs.100/-) and in the reception I met Mr Bose Krishnamachari, one of the directors of the Biennale. I introduced myself. I had met him during the 2012 edition with Mr Riyas Komu who is the other director and a friend. I came to know Riyas had gone to Bombay and will be back in a couple of days. Mr Bose gave me an intro to the Biennale and gave me a book with the details of the exhibits. I went about seeing the exhibits in the Aspinwall House venue.
About the Biennale:
The Kochi-Muziris Biennale is an ongoing international exhibition of contemporary art in Kochi, Kerala. The first edition of Kochi-Muziris Biennale was conceived and curated by Bose Krishnamachari and Riyas Komu, who are the president and secretary of the Kochi-Muziris Foundation. The last edition was in 2012-13 and had 4,00,000 visitors in 90 days. The popularity and cultural success of the India's First Biennale gave the Foundation the necessary boost to conduct the second edition in 2014-15. The Biennale is curated by Jitish Kallat and the topic is Whirled Views and Whorled Exploration. The exhibition is set in spaces across Kochi and surrounding islands. The shows are held in existing galleries and halls, and site-specific installations in public spaces, heritage buildings and disused structures.
The Kochi-Muziris Biennale tries to showcase the historic cosmopolitan legacy of the modern metropolis of Kochi, and the mythical ancient port of Muziris, along with daily talks, seminars, movie screenings, music, educational activities for students, and workshops.
The Biennale has 94 artists from 30 countries displaying their art works that commenced on Dec 12, 2014. The eight exhibition venues are spread out in Kochi and Ernakulam and they are Aspinwall House, Cabral Yard, Pepper House, Vasco Da Gama Square, David Hall, Kashi Art Gallery, CSI Bunglow, and the Durbar Hall. I was able to visit all the locations except the Durbar Hall.
The Biennale ends on March 29, 2015. For more information please visit http://kochimuzirisbiennale.org/
Some of the exhibits: