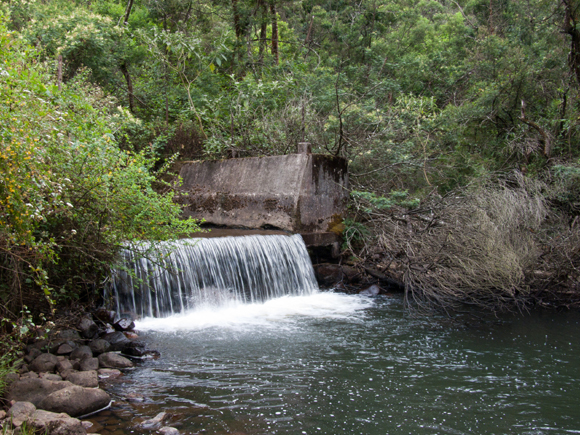 Destinations
I was eagerly waiting for this day. I made plans with a childhood friend, PR Ramesh, for a trip to Avalanche, Emerald, and Red Hills Nature Resorts. As usual, I got up early and went for a long walk down the Tamizhagam road. Ramesh came over around 9:30 am and we left for the main bus stand. The bus came at around 10:30 am, it was crowded as the earlier bus was cancelled, and we were lucky to get seats. We got the tickets to Avalanche (Rs.15/- per head) and took us through some of the most picturesque landscapes. Potato fields, tea estates, thick clumps of shola forests, eucalyptus, pines, acacia, and bottlebrush doted the verdant landscape. I was feeling a bit squeamish with all turns and twists, but nonetheless it was a wonderful bus ride.
We reached Avalanche at about 11:20 am. I expected it to be devoid of other tourists, but I came to know it is open to tourists for the past 2 years. Now, they have an eco-tourism project and take tourists on a mini-bus ride through the thick forests. If lucky, one can see Nilgiri Tahr, bisons, leopards, sloth bears, sambar deer, and other wildlife. This ride costs Rs.150/- per head. A busload of tourists were about to embark on this journey. A short trek took us to a small stream.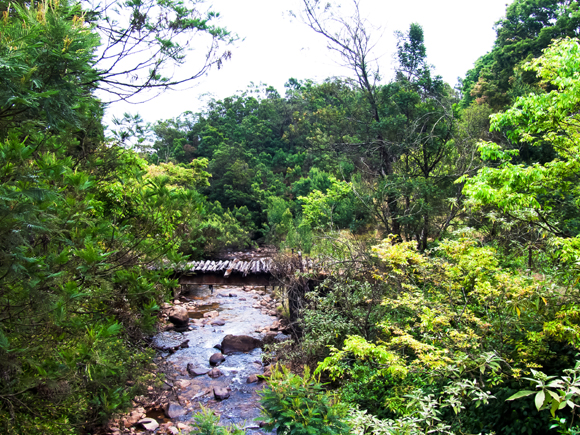 The crystal clear water and the thick forest makes it a lovely picnic spot. I took a couple of pictures. The water was bone chilling cold and clear.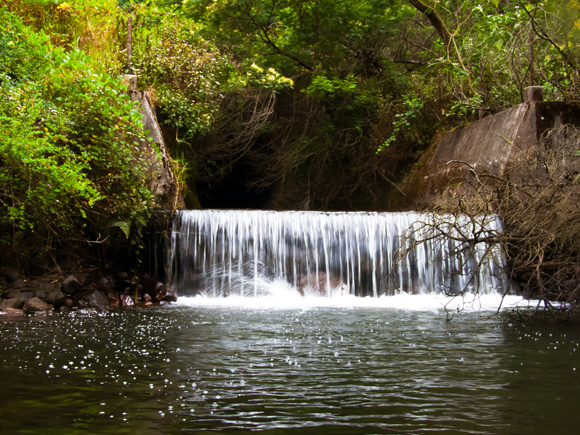 There is a trout farm nearby, which we gave a miss. Tt is said that the British introduced trout here in the early 1900s and fly-fishing is allowed with permission from the Fisheries Department.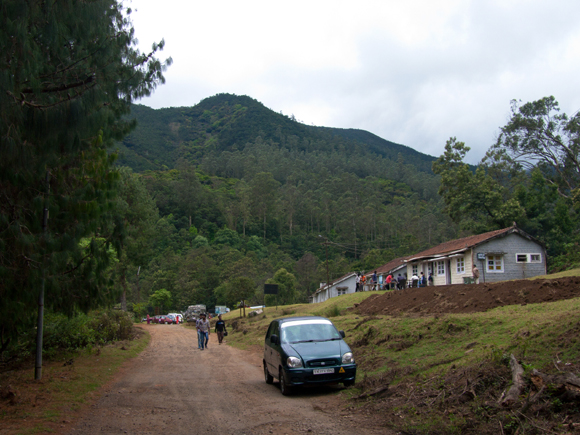 As our original idea was to meet a homestay owner in Red Hills, we waited for the same bus to return from the powerhouse down the road. Some of Ramesh's friends had come over and they were going back to Ooty and gave us a lift to Emerald village.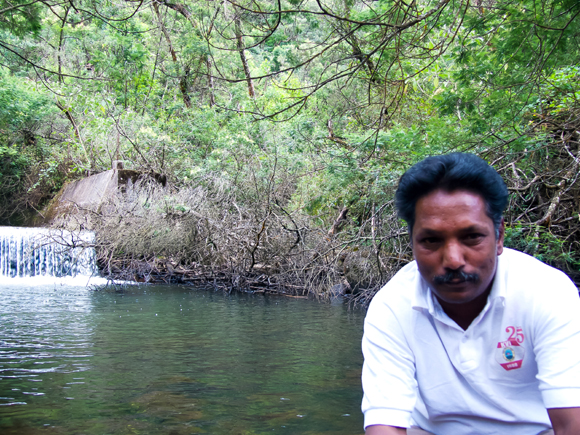 From the Emerald village centre, we took the road to Red Hills. It was a long trek. We reached the Emerald reservoir and took a break and soaked in the wonderful natural setting.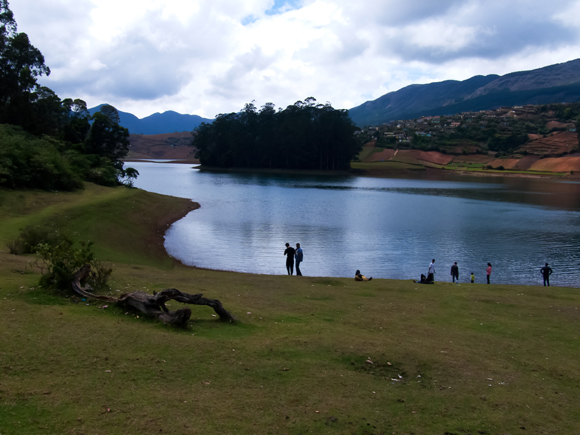 We set off again on an uphill trek. Even with the midday sun it was cold and I in spite of walking about 3 km, I still kept on my sweater on and hardly broke a sweat. We talked about our good old times, our old school, our classmates, our families, and we had a good laugh at our friend's follies and antics, time flew. I was quite hungry and wasn't quite prepared for such a long trek and assumed Red Hills was very close to Emerald village.
Half way to Red Hills, we came across a small cluster of houses.
Ramesh tells me one of his uncles lives here and we went in search of him.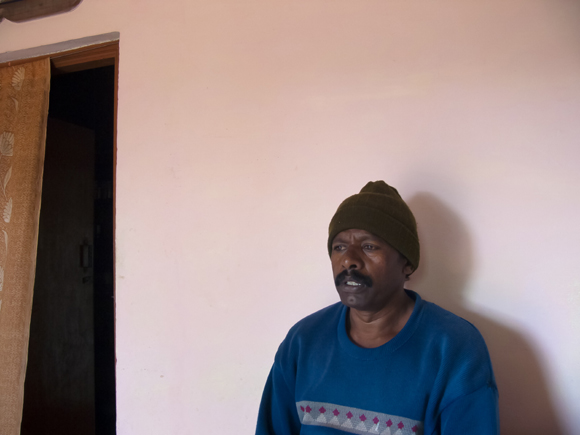 We found him working in the farm behind his house. We were invited to his place and they offered us coffee, which we very gladly accepted.  Ramesh's uncle Mr Mani left the hustle and bustle of Ooty and settled down here 30 years back.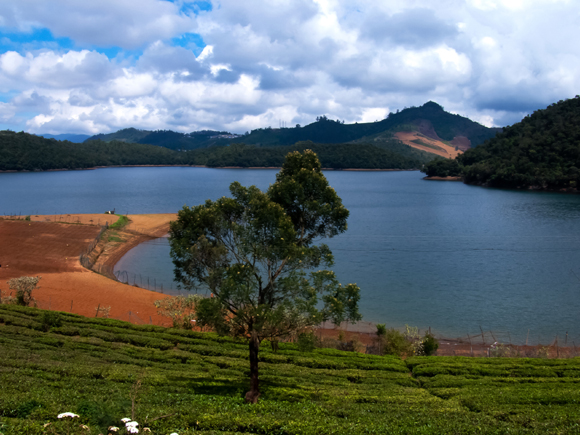 He has a small store and cultivates vegetables, and enjoys the serene country life. He lives with his wife here and his children visit during the weekends, they are doing their engineering degree course in Coimbatore.
The coffee refreshed us and we set off again.
The trek was mainly uphill and we tried hitchhiking to Red Hills. The first two vehicles were Govt jeeps and they hardly noticed us and went by. The next was a small jeep which was going to the Destiny Farms (a nature stay of the Little Earth group) and they stopped and agreed to take us. We sat on cattle-feed sacks and it was quite uncomfortable, but it was an experience of a different kind and we were glad they gave us a lift. After a couple of kilometres, we resumed our walk.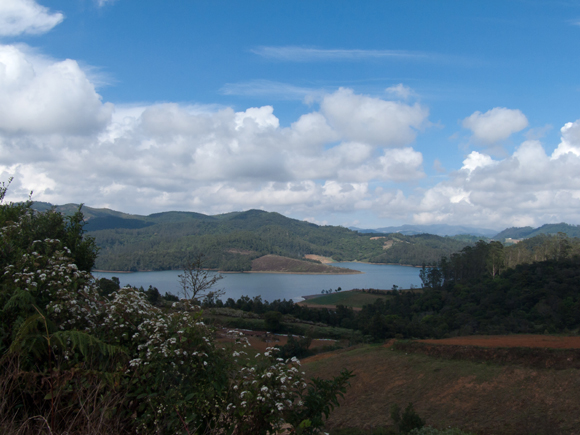 And the vistas got better and better and more dramatic. Lakes below, cloudy horizons, blue skies, potato farms in varying degrees of growth, solar fences, tea plantations.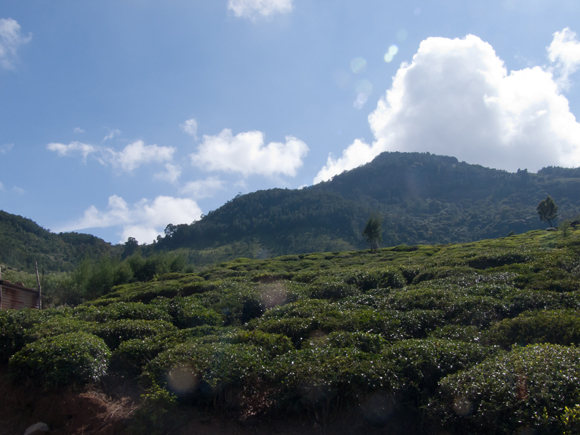 I could see a lot of birds in these area, great tit, pied bushchat, bulbuls, mynas, glimpse of a Nilgiri laughing thrush, a raptor, and lots of sparrows (Ooty and the neighbouring areas are a haven for sparrows).
Finally, on the next fork of the road, we see a small signpost 'Red Hills' and I was quite happy and relieved that the seemingly never-ending trek was coming to an end.
We walked another few metres we come to the most beautiful bungalow in an outstanding setting. Down the hills we could see a lot of agricultural farms, most of the Emerald reservoir's extent, and breathtaking vistas 360 degrees.
Ramesh went over to meet the owner, but he had waited for us and had left a few minutes earlier. That was a bit of a disappointment. We got the permission to take some pictures of the cottage and the wonderful panorama around.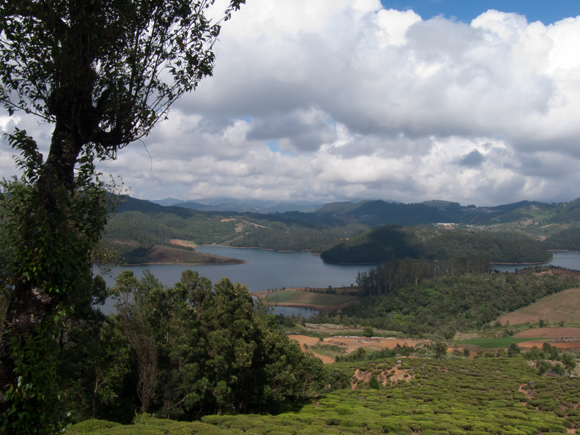 We were told a bus to Ooty comes around 4:30 pm and we better hurred up. We come down to the bend and waited. A jeep came by and, for a small fare the driver was ready to drop us off at Emerald village, where there are frequent buses to Ooty. We reached Emerald and had some tea and hot bondas. We were famished and hungry, hogged down a couple of bondas and tea. We got a bus at around 4:30 pm and reached Ooty by 5:30 pm.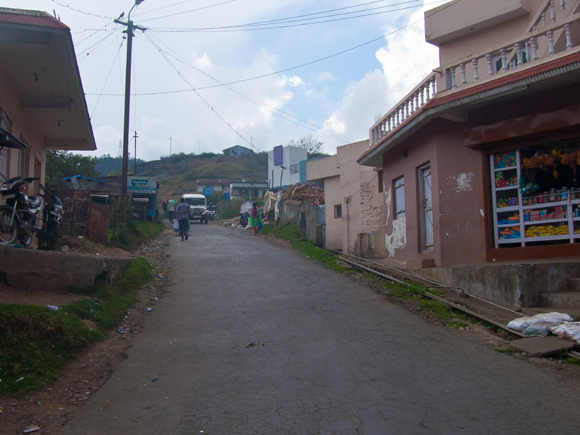 It was a great trip despite the long trek to Red Hill Nature Resorts. I reached my room at Aura Cottage, asked for an early dinner and went to sleep by 8:30 pm.
Some information for travellers:
1. PR Ramesh manages a homestay in Ooty. He can arrange and conduct trekking tours, camping, and he knows the area very well. We are in collaboration with him to conduct a packaged tour… coming soon.
2. Avanlanche is 28 km from Ooty.
3. Avalanche Lake allows trout fishing with permission from the Fisheries Department.
4. Emerald village and lake is about 25 km from Ooty, picturesque landscapes, a good trekking area, and a haven for birders.
5. Redhills Nature Resorts is about 27 km from Ooty. The resort overlooks, Parsons Valley Lake, Emerald Lake, Avalanche Lake, and Porthy. It is a 100-year-old British bungalow.
6. The temperatures can dip to single digits, warm clothing is an absolute necessity.